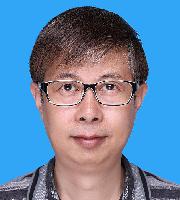 TENG Yongping
Professional title:Associate Professor
Office No.:01051688213
Email:ypteng@bjtu.edu.cn
1982-1986, DEPARTMENT OF PHYSICS, BEIJING NORMAL UNIVERSITY, BACHELOR DEGREE
1986-1989, DEPARTMENT OF PHYSICS, BEIJING NORMAL UNIVERSITY, MASTER DEGREE
Teng Yongping was born in 1965. I entered the Physics Department of Beijing Normal University in 1982 and graduated with a master's degree in 1989. Since July 1989, I has been teaching in the Physics Department of Beijing Jiaotong University. Mainly engaged in the research work of ultrasonic detection and physical experiment teaching.
Mainly engaged in theoretical research and product development of ultrasonic nondestructive testing. At present, in-depth work has been carried out in ultrasonic transducer research, industrial ultrasonic automatic flaw detection equipment research and development, ultrasonic waveguide wave and ultrasonic phased array theory and experimental research.
1. Complete System and Software
Ultrasonic P-scan image system
Ultrasonic/Eddy current C-scan image system
Winscan image software
Winpscan image software
portable ultrasonic image system
SUSC880/DUSC880 ultrasonic image cards
Multi-channel ultrasonic TESTING EQUIPMENTS
2. Graduate Projects
Ultrasonic image inspection for center bores of turbine rotors
Ultrasonic image inspection for testing the internal ribbed tube girth
Ultrasonic scan image equipment for pressure vessel wall thickness gauge
B-scan inspection for locomotive axle
Automatic inspection for locomotive drive gear
BORESCAN ULTRASONIC IMAGE SYSTEM
Automatic ULTRASONIC testing for dRILL HEAD
SYSTEMS FOR THE on-line ultrasonic inspection OF locomotive wheels
Ultrasonic TESTING & thickness gauge equipment for LARGE seamless Steel PIPE
PHASED ARRAY ULTRASONIC TECHNOLOGY APPLICATION FOR STEEL PIPES & TRAIN AXLE.
3. Apparatus Developed for Undergraduate Experiment
JDUT-1 ultrasonic image apparatus
JDUT-2 ultrasonic detect apparatus
JDUT-3 ultrasonic measurement apparatus
College physics experiment